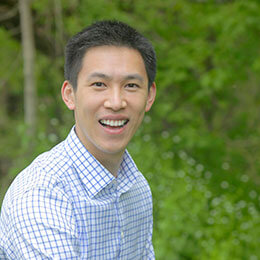 ---
Dr. Jin Lin received his B.S. degree from Cornell University in 2010 and received his D.M.D. degree from the Harvard School of Dental Medicine, with honors in research, in 2014. His post-doctoral pediatric dental training was completed at the Children's Hospital of Boston and the Harvard School of Dental Medicine, where he received his Certificate in Pediatric Dentistry in 2016 and served as chief resident during his second year. Patients come from across the world to be treated at the Children's Hospital of Boston; Dr. Lin was fortunate to have the opportunity to consult on and treat patients with diverse medical and dental issues, including those with rare syndromes, and has seen first hand that all sicknesses are better healed with compassion. Dr. Lin is excited to join Valley Pediatric Dentistry and committed to bring a healthy smile to your child with the highest degree of professionalism and compassion.
In addition to clinical care, Dr. Lin has extensive research experience. He has investigated the long-term effects of a fixed dental appliance (the Latham-type appliance) on the dental development of cleft lip and palate patients. He has also published articles in peer-reviewed journals on esthetic restorations using all ceramic crowns.
A newlywed, Dr. Lin is excited to move back to New York and start a new journey in the Westchester area with his wife Sara. In his spare time, Dr. Lin enjoys travelling, reading and exploring all that Westchester has to offer. He is a member of the American Academy of Pediatric Dentistry and the American Dental Association.
---
Jefferson Valley

3630 Hill Boulevard, Suite 401
Jefferson Valley, NY 10535
Click for Directions
914-245-7100
Hopewell Junction

1557 Route 82, Suite 2
Hopewell Junction, NY 12533
Click for Directions
845-226-8577