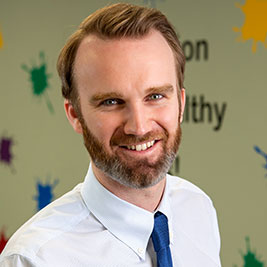 ---
Dr. Chris loves being a part of the team at Valley Pediatric Dentistry and takes pride in serving the surrounding communities. The compassion and enthusiasm of everybody on staff at the office makes for an exciting work environment each and every day.
Prior to his career in dentistry, Dr. Chris graduated from Boston College's Honors Program with a Bachelor of Science in Biology. After a wonderful year of teaching 6th grade science in his home state of Massachusetts, he attended the University of Connecticut School of Dental Medicine where he was elected as Class President. Following his time at UConn, Dr. Chris completed his pediatric dentistry training at Columbia University/New York Presbyterian Hospital where he served as Chief Resident.
Dr. Chris's favorite aspect of his job is building relationships with patients and their families. He strives to provide positive early dental experiences for children to help foster a lifetime of great oral health. In addition to providing dental care stateside, he has participated in service trips to Chile and the Dominican Republic as a part of global outreach programs.
In his free time, Dr. Chris is an avid Boston sports fan (which can be a little challenging living in New York!). He also enjoys running, relaxing on the beach, a solid Netflix marathon, wearing fun socks, and spending time with family and friends on both the east and west coasts. Dr. Chris lives with his wife and college sweetheart, Sophie, and their baby daughter, Birdie.
---